At Powers Plumbing we treat our clients with integrity and honesty along with
customer service unlike others. You can expect only the best:
No fancy terms, no hidden fees, just real professionals. All in terms you understand.
All repairs are quoted upfront and are guaranteed for one year (unless different terms are
agreed upon). More...

Up front Pricing from a book based on national labor guides, means you and
your neighbors always pay the same price for the same task . More...

Customers may supply thier own material, if they so choose.

All appointments are set for a 2 hour window, if this can not be kept an additional 5%
discount will be applied at the end of the invoice.

Options are given so you can make the best decision for you at the time of the service call.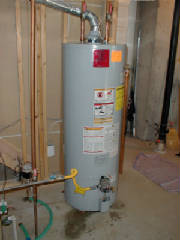 Residential and Mobile Home Water Heaters
We offer a wide range of plumbing products and services:
Gas line installed, serviced, tested.

Water-based heating hydronic, baseboard, radiant,steam systems serviced and installed.

Water heaters installed, replaced, repaired and upgraded (natural gas, propane,electric,
manufactured homes).

All facets of plumbing repair or replacement, from simple to exotic.

Environmentally safe biological drain cleaners. Tree roots removed safely with out a
machine and it comes with a guarantee. More...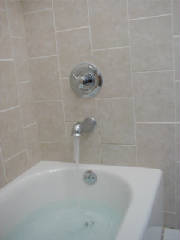 We Will Install Tubs, Shower Valves, and Tub Enclosures