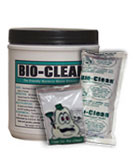 BIO-CLEAN
Bio-Clean is a blend of bacteria and enzymes. The bacteria are natural, not genetically-engineered. The enzyme concentration is the most powerful on the market for residential and commercial use.
Bio-Clean is safe and non-poisonous. It creates no heat, no fumes, no boiling. It does not attack live tissue nor inorganic materials, only organic wastes like grease, hair, food particles, paper, cotton & sewage. This makes BIO-CLEAN safe for people, plumbing and the environment. BIO-CLEAN changes the waste particles into water, carbon dioxide and mineral ash which run harmlessly out of your waste system. These elements are then available for plant life.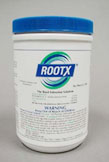 ROOTX
RootX is a simple, cost-effective and proven way to kill pipeline roots in residential sewer lines, storm pipes and septic systems.
RootX uses a non-caustic, non-fumigating and non-systemic, and it contains no diquat dibromide, copper sulfate or metam sodium.
The patented RootX formula foams on contact with water. The foam acts as a carrying agent, lifting the herbicide to the top of the pipe where 90 percent of pipeline roots grow. Degreasing agents strip away grease and grime so the active ingredient can penetrate the roots, killing the root tissue on contact. RootX promotes bacterial growth to speed the decay and natural removal of roots. The foam also leaves a thin layer of the RootX herbicide on the pipe walls to prevent re-growth.