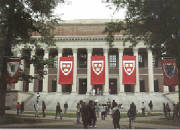 Harvard University Test Results
"Chlorinated drinking water has been linked to small increases in the rates of rectal and bladder cancer in a new analysis by researchers at Harvard University and the Medical College of Wisconsin. The findings, reported today in The American Journal of Public Health, are drawn from a combination of 10 previous studies. Using statistical methods, the researchers found that the slightly higher rates of the two cancers seemed to correlate with the amount of byproducts produced by chlorinated water."
"...the authors calculated that is accounted for 6,500 cases of rectal cancer and 4,200 cases of bladder cancer in the US each year."